Customer Care Coach Program
Premier Customer Service Training Program
Crampton Consulting Group are proud to partner with Boehringer Ingelheim to deliver this premier program.
Together, we look forward to supporting your team to deliver exceptional customer service and seeing your practice reap the many rewards!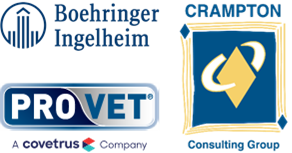 Program includes one attendee at each digital workshop:
Workshop 1: Promoting Value
Workshop 2: Dealing with Difficult Situations
Program includes 2 x Telephone mystery shopper calls to benchmark and check implementation of learning.
Program includes 4 x one hour group coaching support and implementation calls with CCG's experienced coaches.
A comprehensive and well-supported program ensuring implementation of knowledge and consistent customer service standards
Excellent customer service drives sales and gives your practice a strong competitive advantage
Educate your team on how to deliver exceptional service to your clients
Increased client compliance leading to improved profits
Boost confidence and morale amongst your team
Improve your reputation in your community as a quality service provider
Improved customer service levels leads to increased customer satisfaction and higher client retention levels
Implementation of customer service standards ensures a consistently high level of service is provided
A more efficient and better equipped team to deal effectively with your customers
April – September 2024
October 2024 -March 2025